"Effective Debt Recovery Strategies with Gregory @ Vertex"
At Pinnacle Credit Services, we are committed to a continual training curriculum for all staff irrespective of age and position in the company. In this respect, we have spent over 68 man days in training for our staff and over 60% of our staff has received some form of internal and/or external training annually. This has given them a unique edge in the industry, enabling them to conduct their job in an efficient and professional manner.
We strongly believe that employee development drives exceptional success and we position our success through the regular employee training, monitoring and personal engagement. Such opportunities for professional development increases productivity and efficiency for our employees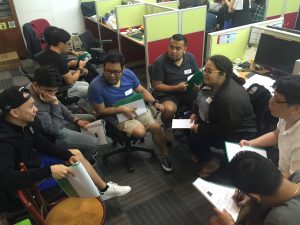 On the 15th of October 2016, we invited Mr Gregory Chua to host a training session on Effective Debt Recovery Strategies at our Vertex office. Gaining his experience from marketing office security and medical equipment, Gregory has built his career in the past 13 years in a local leading business with marketing the group's services from business/credit information to debt recovery and account receivables management. Not only has he provided regular training sessions to collection officers on debt recovery techniques, he has also conducted numerous external seminars and workshops for participants from government ministries, statutory boards as well as both MNCs and SMEs. Mr Gregory Chua was also a trainer for the Singapore Association of Credit Management on the certification program "Collections Best Practices"